Autoclave Sterilizer Repair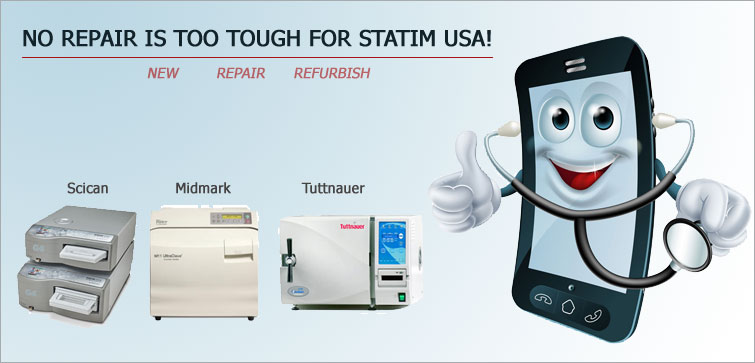 Here at Statim USA, we pride ourselves on the quality and performance of our autoclave and sterilizer repairs that we offer our clients. Our autoclave repairs are done in-house by one of our repair specialists using OEM parts. Our customers trust us with repairs because they know we are the best at autoclave repairs, getting them back to working condition in a short amount of time.
Need a repair or service on your Autoclave or Sterilizer?
We are your #1 trusted resource in Sales, Service and Repair for all things Autoclaves. If you need a new unit from one of the leading manufacturers, we can sell it to you. If you need a repair done on ANY autoclave OR ANY sterilizer PC Board, you have come to the right place. If you need a quality refurbished SciCan, Midmark, or Tuttnauer, we can fill that need.  If you need a repair done on your sterilizer or autoclave, we can fix it the right way!
People choose Statim USA for sterilizer repairs because:
Our quality cannot be beat
Our prices cannot be beat
Our customer service cannot be beat
Try us today and you will not be disappointed, we guarantee it!
Save
Save
Save
Our Store
4443 Henry Dellinger Rd
Suite E
Maiden, NC 28650
Hours of Operation
Monday:

7:30am-11pm EST

Tuesday:

7:30am-11pm EST

Wednesday:

7:30am-11pm EST

Thursday:

7:30am-11pm EST

Friday:

7:30am-11pm EST

Saturday:

7:30am-11pm EST

Sunday

Closed