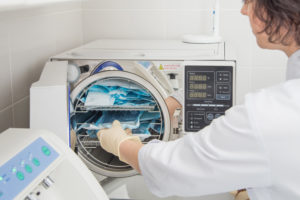 Medical professionals rely on autoclaves to sterilize their instruments. The pressurized steam within the autoclave (which is around 270 degrees Fahrenheit) sufficiently eliminates the majority of contaminants and ensures these instruments are safe for patient use.
But while the functions of autoclaves are basically the same across all platforms, knowing which type of autoclave will work best for your facility may not be so straightforward. Below, we'll take a look at the Statim autoclave and why the Statim sterilizer is superior to more traditional types of chamber autoclaves available on the market.
It's tough on contaminants, yet gentle on instruments: Statim autoclaves are incredibly effective in terms of sterilization. The same can be said for other autoclaves. The difference here is that you won't have to worry about your instruments wearing down due to this sterilization. If your instruments have lumens or pores, this is an excellent option because it reduces heat exposure, eliminates humidity, and provides a gentler cycle overall without compromising effectiveness. Because the Statim provides temperature consistency, the oxidation factor (which can harm instruments when using a traditional autoclave) is eliminated. Many experts claim that using this type of autoclave could make your instruments last up to 10 times longer than with traditional autoclave sterilization.
It's incredibly quick: With this type of autoclave, the process features rapid heating and fast cycles. Other types of sterilizers require heating of the entire reservoir. But Statim autoclaves heat only the steam required for the cycle through a specialized steam generator. Not only does this make sterilization a lot faster, but it's also a lot less wasteful. It guarantees that fresh steam is used for every single cycle and that instruments are heated and dried quickly, allowing you to use sterilized instruments with record speed. Plus, since the autoclave's USB drive stores all of your cycle information right there, you don't have to waste any time entering information; it'll be all set up from the start.
It's convenient and cost-effective: Traditional autoclaves force you to wrap your instruments and wait for them to dry before use. But with a Statim version, you can carry the portable cassette right into any room in your facility. You can even have another sterilization cycle running while you do so, which will make your operations even more efficient. Because this process is so much faster and more delicate than others, you won't have to wait around, replace instruments before their time, or sacrifice on quality. Overall, it's a much more cost-effective and convenient method that will allow you to make the most of your time. In addition, these autoclaves can be connected to WiFi or Ethernet, allowing you to send information via email and even print out any USB data you require.
If you're using outdated technology for your sterilization, your facility will likely suffer as a result. Statim autoclaves are one of the most popular on the market for several good reasons, including their efficiency, speed, and quality. Looking for refurbished autoclaves for sale? Statim USA has you covered. For more information, contact us today.
Looking for refurbished Statim 2000's, follow this link – Refurbished Statim 2000
Look for refurbished Statim 5000's, follow this link – Refurbished Statim 5000