Everyone makes mistakes, that's no big deal. But when it comes to autoclaves, we want to ensure that you don't make any mistakes. Because if something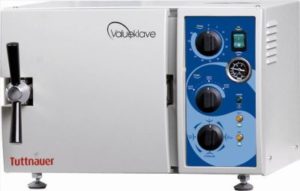 were to go unnoticed or unchecked, that can be detrimental to your machine. And if your machine stops working, that can be a direct impact to your business. So it's always important that you know what and what not to do when owning an autoclave. But no need to worry, that's where we come in. We're here to tell you about the most common mistakes we see in autoclaves. So this guide will be our top 3 Tuttnauer mistakes. If you have any questions, you can contact us at 704-966-1650, option 3 for our Free Tech Support. 
Over-Tightening the Door
Some tuttnauer autoclaves have a door handle that can be manually tightened for closing. Usually in the form of a twisting handle that gradually tightness turn by turn. And with anything, too much of it can eventually not be good. One of the most common mistakes we see in these autoclaves is that these doors get overtightened. This can cause problems with the door gasket down the line. As the door continuously gets over-tightened, it'll prematurely age the gasket by leaving a ring around it that can cause problems faster. But there's a way to avoid over-tightening the door.
Take a look inside of the door mechanism, there should be a flat section. This is a safety measure built into the door bellows, the flat part matches up to a button on the handle of the door. Simply twist the door handle until that button sits flat with the bellows. And the door handle itself should be flat too. No over-tightening required.
We have a video here if you need a visual example. 
The Benefits of Chamber Brite
Another one of the top 3 Tuttnauer mistakes we run into comes in the form of Chamber Brite. Chamber Brite is a wonderful autoclave cleaning solution. It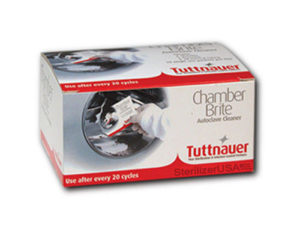 comes in powder packets or sometimes tablets depending on which one you buy. But either way, all you need to do is put it in the chamber and run a cycle with it. Then the cleaning process begins. Once the cycle is done, the chamber of your autoclave will be so clean you could sterilize with it. 
However, one thing we need you to keep in mind is to NOT put it through a dry cycle. No dry cycling the Chamber Brite. The drying of the Chamber Brite can leave your autoclave with a green residue that can get into the chamber and reservoir. So once you finish the cycle with the Chamber Brite, drain the autoclave. Depending on which one you have, there may be differences in the location of the drain. But when you find it, unscrew the drain cap and get rid of all of the cleaning solution. We also recommend flushing out the entire system afterwards. 
We have a video on the explanation of this section if you'd like a visual approach. 
Misusing the Multivalve
Now this other common mistake is mainly seen in Tuttnauer autoclaves that have a multivalve. The multivalve is the black dial on the bottom of the dials on the front face of the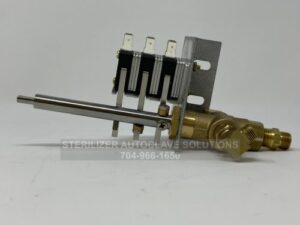 unit. It's the valve that lets you set the cycle function during the different stages. That means that the valve cannot be turned in any direction at any time. And we see a mistake common among owners of this unit, that misuse the multivalve. 
The Tuttnauer multivalve is only meant to be turned clockwise. And when being turned, it has a sort of physical and audible "snap" that lets you know it shouldn't go beyond that point yet. It is not meant to be turned counter-clockwise. Misuse of the multivalve can cause the internal mechanism (like the one shown on the right) that helps work the valve to bend. And if it gets misused even beyond the point of bending, it can loosen the seal between the inner part of the autoclave and the mechanism. This can cause leaks in your autoclave when there shouldn't be any. So please take care of how you use your multivalve. 
We have a video example of this section here if you need a visual approach. 
Final Thoughts
Mistakes are not uncommon, in any industry, especially not the top 3 Tuttnauer mistakes we went over here. Make sure that when you first get a new autoclave you read carefully into what you're supposed to do to avoid mistakes like this or any others. But even if you do make mistakes, we've got you covered. If you have any questions about your Tuttnauer, issues like these or anything else, you can find us using the links below. 
---
As always if you have any questions about this process or anything else please feel free to contact us and take advantage of our "FREE TECH SUPPORT."
We also offer FREE VIRTUAL TECH SUPPORT to "See and Talk" with a "Real Time Live Technician" for any problems you may be in need of help with.
You can also use our "FREE MAINTENANCE PROGRAM". Take the guesswork and worrying about what unit is due for maintenance and which maintenance cycle it is time for. We will keep track of all your autoclaves and let you know when it's time for anything.
---