This article contains the instructions necessary to perform preventative maintenance on your SciCan Hydrim C61W G4 instrument washer. Vivid color touch screen, validated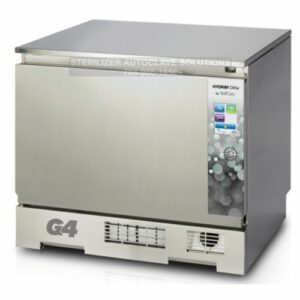 cycles for repeat washing performance, active hot air drying, the works. And with SciCan's patented G4 technology, this instrument washer is a must-have in your practice.
So in this article, we're going to go over its preventative maintenance checklist. What you need and when you need it to keep it functioning at 100%. And doing everything we can to extend the life of your autoclave for as long as possible. This Hydrim C61W G4 checklist comes as a part of our Free Preventative Maintenance program.
And if you have any questions our certified technicians are here to help. And you can give us a call at 704-966-1650, and hit option 3 for our Free Tech Support line.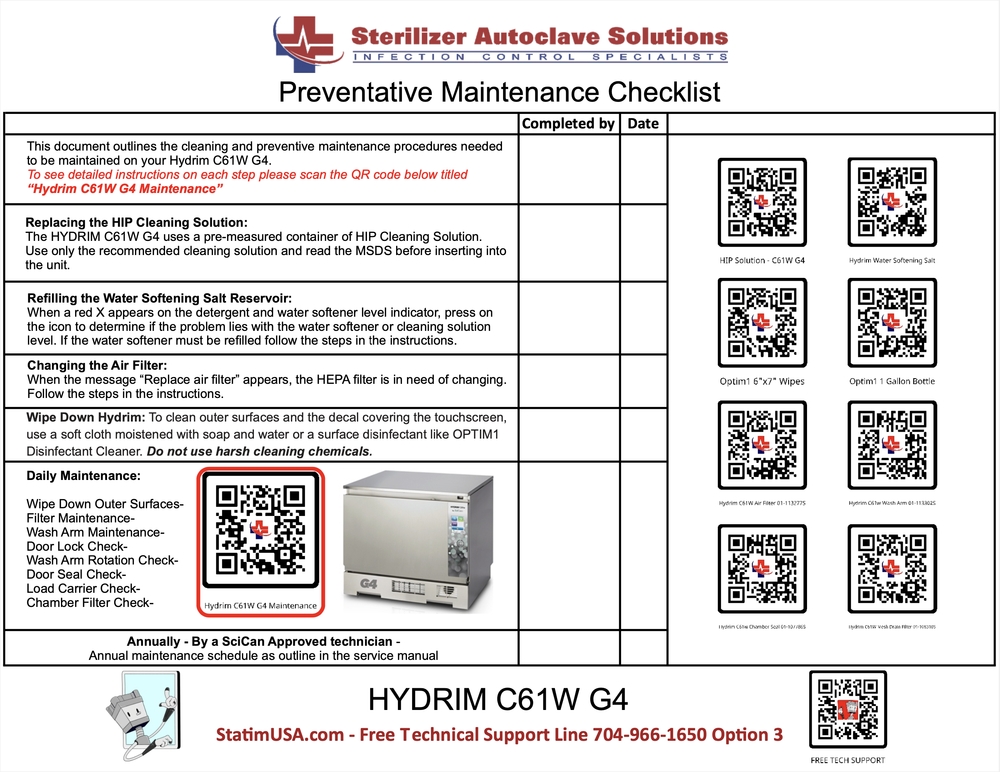 The Preventative Maintenance
The maintenance cycle for the Hydrim C61W G4 is different than our other pm checklists. Aside from the daily maintenance instructions, these preventative maintenance instructions will show you how to maintain your unit by part.
Replacing the HIP Cleaning Solution:

 
The HYDRIM C61W G4 uses a pre-measured container of HIP Cleaning Solution. Use only the recommended cleaning solution and read the MSDS before inserting into the unit. 
The HIP Ultra Cleaning Solution is found here on our website.
Refilling the Water Softening Salt Reservoir:

 
When a red X appears on the detergent and water softener level indicator, press on the icon to determine if the problem lies with the water softener or cleaning solution level. If the water softener must be refilled follow the steps in the instructions. 
Hydrim Water Softening Salt can be found here on our website. 
Changing the Air Filter:

 
When the message "Replace air filter" appears, the HEPA filter is in need of changing. Follow the steps in the instructions. 
The Hydrim C61W G4 Air Filter is on our site here. 
Wipe Down Hydrim:
To clean outer surfaces and the decal covering the touchscreen, use a soft cloth moistened with soap and water or a surface disinfectant like OPTIM1 Disinfectant Cleaner. Do not use harsh cleaning chemicals. 
Optim1 Wipes are available on our site here
The 1-gallon bottle of Optim1 solution is here on our site
Daily Maintenance
Wipe Down Outer Surfaces

Filter Maintenance

Wash Arm Maintenance

Door Lock Check

Wash Arm Rotation Check

Door Seal Check

Load Carrier Check

Chamber Filter Check
The Hydrim C61W Wash Arm is available here on our site
Hydrim C61W Chamber Seal is available here on our site
The Hydrim C61W Mesh Drain Filter is available here on our site
Final Thoughts
If you've reached this point, then you should have a good understanding as to what your maintenance schedule should look like. But if you still have questions or there's help you need, we've got options. You can call us anytime at our tech support line at 704-966-1650, Option 3 for free tech support. Or we have our Free Preventative Maintenance Program. Which allows you to submit information on your machine, and WE call YOU whenever it's time to maintain a part of your autoclave. Our techs will walk you through step-by-step and tell you what part you need and what to do with it.
Hopefully this guide helps you to understand that preventative maintenance isn't a daunting task as long as you know what to do.
---
As always if you have any questions about this process or anything else please feel free to contact us and take advantage of our "FREE TECH SUPPORT."
We also offer FREE VIRTUAL TECH SUPPORT to "See and Talk" with a "Real Time Live Technician" for any problems you may be in need of help with.
You can also use our "FREE MAINTENANCE PROGRAM". Take the guesswork and worrying about what unit is due for maintenance and which maintenance cycle it is time for. We will keep track of all your autoclaves and let you know when it's time for anything.