In this article, we're going to explain what you can find in your Tuttnauer 3850M Preventative Maintenance Kit. What each part is and a short explanation of what it does.
---
And if you just want to talk to someone for any questions you may have, call our Free Tech Support at 704-966-1650 Option 3.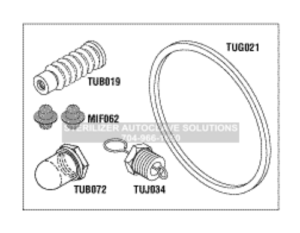 This is a picture of what will be included in your specific kit. 
Door Gasket
The first item is the Door Gasket to the right of the parts as shown above. The door gasket helps seal the autoclave door and prevent steam leaks. It's always listed as an annual maintenance part, however if you run consecutive or back-to-back cycles it will need to be changed more frequently.
We have this 3850M Door Gasket for purchase here. 
Door Bellows
The top item under the green gasket is the safety valve. The Safety Release Valve is designed to relieve the autoclave of any excess pressure so as to not cause damage. It is located inside of the reservoir.
The Door Bellows is available here. 
Air Jet Valve (Red Top)
Under the safety release valve is the Air Jet Valve with the red top. Failure to clean the air jet valve can result in failed spore tests of your autoclave. And it can be found within the reservoir of the unit.
The Air Jet Valve comes with the Kit available here.
Rubber Boot for Door Switch
The Rubber Boot for Door Switch allows you to extend the longevity of your door by preventing moisture from entering it. 
Fill/Vent Mesh Chamber Filters
These chamber filters are there to help filter dirt and debris out during each cycle. They can be easily removed to be cleaned or replaced entirely. 
The Fill/Vent Mesh Chamber Filters are available here. 
---
As always if you have any questions about this process or anything else please feel free to contact us and take advantage of our "FREE TECH SUPPORT."
We also offerFREE VIRTUAL TECH SUPPORTto "See and Talk" with a "Real Time Live Technician" for any problems you may be in need of help with.
You can also use our "FREE MAINTENANCE PROGRAM". Take the guesswork and worrying about what unit is due for maintenance and which maintenance cycle it is time for. We will keep track of all your autoclaves and let you know when it's time for anything.
---
The Tuttnauer 3850M autoclave is available here.