In the area of preventative maintenance, we've got over different checklists and kits we have. All to make sure you can ensure the longevity of your autoclave. But today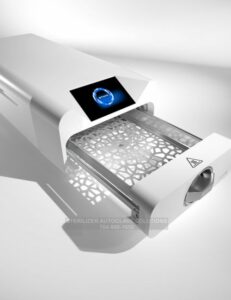 we'd like to push something new into the spotlight. Something different from our normal pm kits. With the introduction to the Enbio S not too long ago, we've been learning so we can provide whatever you need for your Enbio S. And in doing so, we came up with something to make the maintenance process easier. Our new Enbio S Preventative Maintenance Package has all the parts you need to service your unit after a year, or 1,000 cycles worth of hard work. And now it's ready for you to get your hands on. Reminder, this package is for the Enbio S PM Kit WITHOUT a loaner unit. If you would like a loaner unit, check out our product spotlight on the loaner package here. And if you have any questions, you can give us a call at 704-966-1650, and hit option 3 for our Free Tech Support line.
So, in this article, we're going to tell you about our new Enbio S Preventative Maintenance Package. This package is meant for servicing your Enbio S at the 1 year or 1,000 cycle mark. And it comes with a variety of items tailored to the preventative maintenance that'll keep your Enbio S autoclave in great working condition. The kit itself is divided into the 3 sections. The Machine and Vacuum Pump maintenance kits, and the included shipping and labor. 
The Package 
Like we mentioned above, the Enbio S PM Package consists of 3 parts we'll go over. The Machine and Vacuum Pump maintenance kits and shipping. Starting with the first section, the Machine Maintenance Kit.
Machine Kit 
The Machine Maintenance Kit contains the items that would need to be generally replaced on the machine after 1 year or 1,000 cycles. Not focused to a specific area on the machine, just general maintenance areas like the gasket, warranty seal, tray, etc. This kit specifically contains the following items: 
Gasket Enbio S

4x Screw BN9524 M3x5

2x Valve CEME Pv782

Venair Tube 10mm x 5mm

Enbio S Tray

Pneumatic push in Fitting M5

HEPA Filter

Class B Sterilizer Sticker

Warranty Seal
Vacuum Pump Kit
Now onto the Vacuum Pump Maintenance Kit that's included in this bundle. Unlike the other kit in this bundle, the Vacuum Pump Kit is meant for exactly what it's named after. These parts are all meant to help maintain the Enbio S vacuum pump when it's required to do so. The parts included in this kit are the following: 
Bag with adhesive tape 40 x 50 PP BOT 30

Self seal bag 70×100

Check valve EPDM black

Check_valve_ULVAC_pump

Membrane vulcollan

Membrane holder ULVAC vulcolan

Screw M3 to check valve vacuum pump
Shipping and Labor 
When it comes to shipping and labor, this package has it all for you. If your Enbio S is out of commission, you can send it to us for repair as a part of this package. But if you don't have a box for the unit, we can send you a box to properly and safely ship your unit in. And once the unit is repaired, we'll send it right back to you. Ands we'll cover the shipping through the entire process as a part of this package. 
Final Thoughts
We've mentioned before that preventative maintenance can be a hassle to keep track of. Especially over long periods of time. So we like to make sure that we can make the process as painless as possible. And we also enjoy finding new ways to accomplish that goal, and we believe this is one of those ways. Our Enbio S PM Package is just another way that we make the hard work easy for you. No need to worry about what parts you'll need after a year, because we've got you covered. 2 professional maintenance kits ready to go whenever you are, put together in a convenient package. And you can find the Enbio S PM Package here for purchase. 
---
As always if you have any questions about this process or anything else please feel free to contact us and take advantage of our "FREE TECH SUPPORT."
We also offer FREE VIRTUAL TECH SUPPORT to "See and Talk" with a "Real Time Live Technician" for any problems you may be in need of help with.
You can also use our "FREE MAINTENANCE PROGRAM". Take the guesswork and worrying about what unit is due for maintenance and which maintenance cycle it is time for. We will keep track of all your autoclaves and let you know when it's time for anything.
---
The Enbio S Preventative Maintenance Package is available here.