Our advocation for the importance of safety in the sterilization field branches out to many different subjects. Like today, we're focusing on personal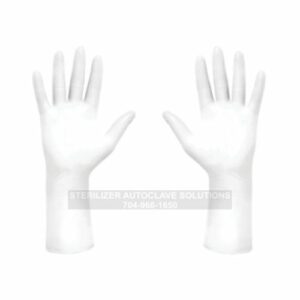 protection equipment. The importance of your first line of defense against something harmful to you cannot be understated. Your PPE is your shield to protect you from unwanted entities that can cause problems in any way. And we've talked about numerous forms of PPE and their importance to the jobs they're built for. But now we've got a new product to show you from a familiar brand. Another kind of glove that's specific to a kind of need that we haven't quite touched on yet. Today, we're looking at Halyard's PureZero Sterile Cleanroom Nitrile Gloves. 
Halyard is a name you should know as well as we do by now. They've produced well over 6+ different kinds of gloves for a broad range of use. And today they've come back for more. Their PureZero Sterile Cleanroom gloves are meant for use in, well, cleanrooms. These gloves are built in-house to help maintain maximum sterility within your cleanrooms. These 12-inch long nitrile gloves sport a range of features to ensure your cleanroom operation is successful. The power of nitrile with the sterility of a cleanroom, there's no better solution than Halyard. But you have any questions, call us at 704-966-1650, option 3 for our free tech support. 
Since it's something we haven't quite touched on until now, we're going over something first. To understand the importance of these gloves, we first have to ask, what's a cleanroom?
What is a Cleanroom?
Show of hands, who knows what a Cleanroom is? No one? Excellent. Sorry if you raised your hand I did not see it. A cleanroom, in essence, is a very very well engineered room specifically designed to keep what's in it from getting out. And also keeping what's out from getting in. Cleanrooms have lot's of uses, some of which aren't even medically related. Cleanrooms can be used for a variety of situations, like:
Manufacturing semiconductors

Hazardous biology

 

Nuclear work

Pharmaceutics

 

Virology
These rooms are meant to be so well maintained that they're eliminating unwanted entry down to the particle. And that's not an exaggeration. Mass filtration systems consisting of multiple HEPA and ULPA filters. The equipment, light fixtures, even the WALLS are specifically designed for minimal air generation. And cleanrooms that work with technological parts even have controlled static generation throughout the rooms to only allow the necessary amount in. The cleanrooms are classified by the standards set by the ISO 14644 and the ISO 14698 standards. Determining the ranking of clean rooms in general (14644), or cleanrooms where bio-contamination is a problem (14698). 
So there's way more that goes into these. But this is enough to show you just how protective these rooms are. So if the rooms themselves are like this, these gloves have to match that kind of protection. Nothing can get in or out. Luckily, Halyard knows how to make a good glove. 
Halyard's PureZero HG3 Sterile Cleanroom Nitrile Gloves
We've gone over the power of nitrile gloves numerous times before. So now we're going to get into what makes these gloves worth the switch to suit your cleanroom needs. We're confident Halyard has made yet another superb product, and by the end you may think so too. 
Comfort and Protection
Halyard's PureZero HG3 Sterile Cleanroom Nitrile Gloves offer much the same in comfort as their other nitrile gloves. The nitrile itself form fits to body heat for maximum comfort factor when wearing them. But the PureZero HG3 Sterile gloves are 12 inches in length. Meaning they also have to extend past the wrist to form a barrier that can close off the sleeves and glove. And with its beaded-cuff design, there's no chance of roll down. But this formula doesn't contain accelerator chemicals that can cause irritation or allergies. And with the added comfort, the gloves aren't the focus, but the job itself. And on the topic of jobs, the PureZero HG3 Sterile gloves are designed to fit a few certain kinds of jobs. Things like: 
Pharmaceutical

Biotechnology

Sterile Compounding

Aseptic Processing
Also, Halyard's HG3 PureZero gloves are protective against chemical splash, micro-organisms and viruses. Being classified as Category 3 PPE, these gloves had to meet the following standards:
CE 2797 PPE Category III according to Regulation (EU) 2016/425 EEC

EN ISO 374-5:2016 Virus Protection

EN ISO 374-1:2016/Type C K-Low Chemical Protection

EN 420:2003 +A1:2009

Compliant with the REACH regulation

Static Dissipative in Use

Tested per ANSI/ ESD SP 15.1

Tested against EN 1149: Protective Clothing – Electrostatic Properties
The Risk-Free Solution
When personal protection equipment for cleanrooms is produced, there's such a fine process to it. And that, in turn, means that switching from one type of PPE to another for your cleanroom is not going to be simple. The process is so regulated, that your cleanroom PPE was also manufactured in its own cleanroom. Monitored the exact same way in the same kinds of conditions. From manufacturing to packaging, they have regulations to ensure that absolutely no compromising material leaves in those products. And with that, there's a risk in switching from one kind of product to another. 
But luckily, Halyard has made the switch simple and intuitive. But it's not just about the guaranteed consistency of their product. It goes beyond the production of the gloves themselves. But they've also chosen transparency. Halyard has their Certificates of Analysis (CoA), and Certificates of Irradiation (CoI) and Declaration of Conformity (DoC) all publicly available to view at any given time, even from their website. And their support offers things like:
Technical documentation

Validation data

Product knowledge and expertise
Sizes
Halyard's PureZero Sterile gloves are also ambidextrous, and come in the following sizes:
6.0

6.5

7.0

7.5

8.0

8.5

9.0

10.0
They have a fingertip thickness of 0.16 mm / 6 mil and palm thickness of 0.13mm / 5 mil. And they all measure at 12" (30.5cm) with a beaded cuff. Coupled with their high tack grip and textured fingertips, there's no problems with handling anything while you've got these on.
Packaging
Since these are meant for cleanrooms, they have a special process in which they have to be packaged. And Halyard does this all in-house at their ISO 9001 facility. The gloves themselves have to be packaged in a cleanroom. The gloves are, "clean processed (washed repeatedly in deionized water) to ensure consistent control of low particles, extractables and endotoxin levels."
And they also don't utilize any of Halyard's SmartPULL packaging. They are individually pair packaged for aseptic donning (poly wallet and pouch) and have triple layer cleanroom compatible packaging (poly pouch, inner bag and case liner).
And the gloves leave the facility with quality assurance in 4 factors:
Low Particle Levels (max 950 > 0.5μm/cm2 for white gloves, max 1200 > 0.5μm/cm2 for blue gloves)

Sterility Assurance Levels (SAL) of 10-6 and an endotoxin level of 20 units/pair maximum

AQL of 1.0 for pinholes

Double bagged plus case liner
Final Thoughts
Halyard's no slouch in the personal protection industry, and they're still going stronger than ever. Halyard's new PureZero HG3 Sterile Cleanroom Nitrile Gloves are the risk-free solution to your problems. When it's time to make the switch and try something new, there's a lot of risks involved. But Halyard's got the perfect solution, and it's manufactured in house. From their cleanroom's airtight production process to your cleanroom's next operation, they make the switch easy. 
Meeting the proper standards in cleanroom protection. Bundled in with their non-irritating nitrile formula, with that familiar protection and comfort in a range of sizes. And for a variety of tasks. The transparency of their support system is second-to-none. Publicly available proof of their claims, showing you just another reason why they're one of the best. We have their PureZero Sterile White Cleanroom Nitrile gloves on our site in the links below the box. And if you have any questions, you can use the first set of links to contact us. 
---
Support
As always if you have any questions about this process or anything else please feel free to contact us and take advantage of our "FREE TECH SUPPORT."
We also offer FREE VIRTUAL TECH SUPPORT to "See and Talk" with a "Real Time Live Technician" for any problems you may be in need of help with.
You can also use our "FREE MAINTENANCE PROGRAM". Take the guesswork and worrying about what unit is due for maintenance and which maintenance cycle it is time for. We will keep track of all your autoclaves and let you know when it's time for anything.
---
The Halyard PUREZERO HG3 – Size 6.0 Available Here
Halyard's PUREZERO HG3 – Size 6.5 Available Here
The Halyard PUREZERO HG3 – Size 7.0 Available Here
Halyard's PUREZERO HG3 – Size 7.5 Available Here
The Halyard PUREZERO HG3 – Size 8.0 Available Here
The Halyard PUREZERO HG3 – Size 8.5 Available Here
Halyard's PUREZERO HG3 – Size 9.0 Available Here