Our job at SAS is to offer our accessible services to anyone who needs them. Whether that be sales, service, parts or repairs. But that also includes our content library and the information it provides. Which means we're always thinking of what to write about next, and today we've got something new. We're always in the loop when it comes to new products on their way to the medical market. And today we've got something new and interesting to show you. And it comes from a name that even extends far outside of medical tech. In fact, you may have used something of theirs more recently than you think. The subject of this article is going to be a new product, 3M's Attest Super Rapid Steam Biological Indicators.
And if you have any questions about this subject or anything else, you can call us at 705-966-1650, option 3 for free tech support. 
Now let's get into the details, which start by answering a very important question. 
What is a Biological Indicator?
We actually wrote an article on the importance of these devices that you can read here. But if you want to stick around, we'll give you a refresher.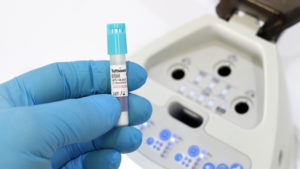 A biological indicator (like the one shown right) provides information on whether necessary conditions were met to kill a specified number of microorganisms for a given sterilization process, providing a level of confidence in the process. Endospores, or bacterial spores, are the microorganisms primarily used in BIs. A biological indicator is made up of a carrier material, on which bacterial spores with a defined resistance to the sterilization process have been applied. The carrier material is enclosed within a glassine vial. The BI is exposed to the sterilization process. It is then incubated under defined growth conditions to determine whether any spores survived the process. If no spores survive, none grow and the test is a pass. If growth is detected, the test is a fail. And some of these indicators are tested in biological readers, like the 3M vials we'll talk about today. 
Speaking of, I think there's one more quick question we should answer before moving on. 
3M Makes Things Other Than Tape? 
Yes. Yes they do. So before we start, don't feel bad if you're in this industry and the only place you remember seeing 3M was on tape. And since we've never talked about 3M before, let's briefly cover their history. 3M is a Fortune 500 company, but with how often you see the brand, that's not surprising. The surprise comes to some in just how diverse 3M's production is. In 1902, they started as the Minnesota Mining Company, and after failed attempts to find what they were originally looking for, their persistence prevailed. They continued down making a name for themselves with numerous products over the next century. After making their first 3M exclusive product, the Abrasive Cloth, their innovation only took them further. And if you REALLY want to know how wide this net is, let me show you some highlights of their history:
1921: They created waterproof sandpaper

 

1925: They created masking tape

1938: They created reflective sheets for traffic signs

1947: Their 3M sound recording tape was used by Bing Crosby for recording music that could be played back later.

 

1948: They produced gift ribbons and surgical drapes.

 

1950: They made a Thermo-Fax copier

1954: RCA used their Scotch Magnetic tape to record tv programs

1969: Astronauts used 3M products, and their boots had 3M Fluorel Elastomer, a synthetic polymer in them.

 

1980: Post-It Notes were created

 
And keep in mind, this is only a FEW of the highlights, because there are too many to fit. These are just the ones we picked to show you how diverse their portfolio really is. If this doesn't tell you enough, we don't know what will. So now that you know their past, let's talk about their newest product. 
3M's Attest Super Rapid Steam Biological Indicator
Finally we come to the part where we show you what 3M came up with. The Super Rapid Steam Bio-Indicators (shown right). Now, the Attest part isn't actually the type of indicator, it pertains to the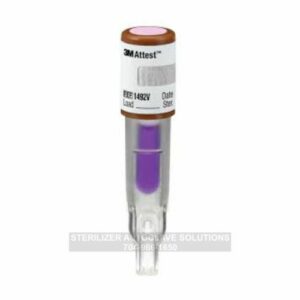 machine they're compatible with. 3M's own biological indicator line called Attests. These indicators can be used with any indicator in the Attest line of biological readers from 3M. The vials themselves have an interesting makeup. Each vial consists of a spore carrier with spores of Geobacillus stearothermophilus and sealed glass ampoule with bacteriological media. And the top has a brown ring for color coding, and even has a chemical indicator in the center. 
When processed, the chemical process indicator turns from pink to light or dark brown. After steam sterilization, the indicator's materials join with the spores. Then it's all incubated in the Attest system, and can get results in just 24 minutes. And as fast as these results can be, you can log the data even faster. Each vial is marked with a barcode for handheld scanners. Making recording results as seamless as possible. But if condensed information is more your style, here's some more information:
Results in just 24 minutes

Color-coded (brown cap) for quick reference and ease of use

ISO 11138-1:2017 and ISO 11138-3:2017 compliant

Monitors 270°F/132°C and 275°F/135°C dynamic-air-removal saturated steam sterilization processes

Compatible with the 3M™ Attest™ Auto-reader 490 or 490M

UDI-compliant 2-D barcode technology to capture BI GTIN, use-by date and lot code with handheld scanner

Recyclable BI tray, QA Cert, IFU, primary packaging box and label minimizes waste
Final Thoughts
Now that you've reached the end, you can tell your friends you know that 3M makes things other than tape. But if they already knew that before you, we are not liable for them not letting you live it down. But in all seriousness, 3M has been producing some of the best products. Things that span from every day stationary to being used in space stations. And today's is no different. They've had their hand in the medical field for awhile and they just keep getting better. And the Attest units and their Super Rapid Steam Biological Indicators are an example. 
Fast result times of just 24 minutes, with an easy-to-use setup to preset parameters. Able to get you accurate results in such a short time with little effort. Easy to manage with its color coded design, and even faster usage with barcode-assisted tracking. And once the process is done, the vials and box they come in are recyclable. 3M made sure that their biological indicators were effective throughout every step of the process. And if you'd like to buy some for yourself we have the indicators and the starter kit in the links to our site below.
---
Links
As always if you have any questions about this process or anything else please feel free to contact us and take advantage of our "FREE TECH SUPPORT."
We also offer FREE VIRTUAL TECH SUPPORT to "See and Talk" with a "Real Time Live Technician" for any problems you may be in need of help with.
You can also use our "FREE MAINTENANCE PROGRAM". Take the guesswork and worrying about what unit is due for maintenance and which maintenance cycle it is time for. We will keep track of all your autoclaves and let you know when it's time for anything.
---
The BOX of 3M's Attest SRS Biological Indicators are available from us here. 
The CASE of 3M's Attest SRS Biological Indicators are available from us here. 
3M's Attest SRS Biological Indicators Starter Kit is available from us here.