We have a huge selection of different products from all kinds of places. Different manufacturers making a different product offer a wider selection to fit your needs. And we make it our job to talk about all of these products so that you have a better understanding of what you're getting. That's also what we're here for today. This article will give us a chance to touch on an area that we need more information in: infection control. And there's a set of products that we have in mind that we don't talk about as often as others. And that's the options offered by Optim.
Optim is a great line of products in the infection control category, and they have incredible stats. The contact times for viral, bacterial and fungal pathogens can range from just 5 minutes, to under 30 seconds. And they can do it in half the wipes that other brands can. But that's not all, and we'll get more into that as we go. The Optim line of products really are incredible, whether it's the wipes or the cleaning solutions. And if you have any questions about this or anything else, you can call us at 704-966-1650.
Seeing as it's our job to provide new information to you, let's talk about something you may or may not already know. 
Who Makes Optim? 
Let's be honest, at first glance you probably thought Optim was the brand name before someone told you otherwise. That's ok, me too. Because if you didn't know, here's a fun fact: Optim products are manufactured by a company called Virox Technologies. Virox is a Canada-based manufacturer dedicated to the fight against pathogens with each new idea. They adopted a "Deliberately Different®" approach to their research and production. And they ensure that their products not only help humans and animals, but the environment. With every formulation being made only with ingredients that are environmentally safe as set by the standards of Health Canada, the EPA, and the FDA's GRAS (Generally Regarded as Safe) Act. Their many certifications and accreditations show just how successful their mission is. And if you've read anything from us about Optim products, you know that they're the real deal. 
So Virox manufactures Optim products, but there's one more thing to note. Currently, in the Optim line, there are two types of products available. Optim TB33 wipes and solutions, and Optim1 wipes and solutions. Both are manufactured by Virox, but one more fun fact: Optim1 products are manufactured specifically for SciCan. Another familiar name you'd know from us. And with how successful Optim products are, who can blame them? Speaking of their Optim products, let's talk about them. 
Optim's Optimal Options
Optim products are some of the best you can find in terms of infection control. Like we mentioned above, there are two available Optim products available to you. There's the Optim 1 and the Optim TB 33. Both come in the form of wipes and bottled cleaning solutions, depending on what you need. Maybe you're just looking for one or the other, but having variety is never a downside.  
Optim 33TB
First let's start with the one that started it all, the Optim 33TB. This version is very similar in many ways to the Optim1 category of products. But there are noticeable differences between the two. The Optim 33TB is still a powerful asset to your work force, because the capabilities of the 33TB are timeless. As a one-step disinfectant, these are your best defense against pathogens and low budgets. Saving both the practice and it's money, because these wipes can cover double the area in half the wipes as leading competitors. And to top it all off, these wipes even today are able to eliminate COVID-19 in just 1 minute of contact time. And with all of these other features, Optim 33TB is still a force to be reckoned with: 
Removes debris while disinfecting. 

No eye, skin, respiratory, or reproductive toxicity.

Safe and eco-friendly use of hydrogen-peroxide.

 

1-minute contact time tuberculocidal, bacterial and virucidal. 5-minute fungicidal.

 

No continuous wiping, saves supplies.

 

EPA Category IV, lowest toxicity category. No need for warning or harmful indicator labels.

 
You can purchase the Optim 33TB Wipes in the 6″x7″ size here on our site. 
The Optim 33TB Wipes in the 10″x10″ size are available here on our site. 
You can also purchase the Optim 33TB 32 oz. bottled solution here on our site. 
And you can purchase the Optim 33TB 1 gal. bottled solution here on our site. 
Optim1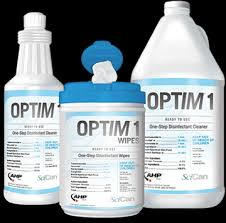 Now we've reached the present day, with the speedy and powerful Optim1. Double the coverage, less wipes used, just like the last. There's no need to do the math to understand that it's a great deal. Virox made a classic once, and they outdid themselves with these, the Optim1 products. Anything seen as a shortcoming on the 33TB products were updated with the Optim1 wipes and bottles. Not only do these eco-friendly wipes share the already great benefits of the 33TB, they improve on contact times significantly. Optim1 can take on TB and bacterial pathogens in just 1 minute across the board. And they can handle enveloped and non-enveloped viruses, and fungi in just 30 seconds! And just like before, Optim1 is equipped to handle the COVID-19 virus. Optim1 is the gift that keeps on giving.
Removes organic debris while disinfecting, saving you time and money.

 

Fast Broad-Spectrum Disinfectant

1 minute contact time ensures compliance, saving you time and money

In the lowest EPA toxicity category, category IV

No

GHS hazard pictograms,

signal words or statements required

No VOCs (volatile organic compounds)

Active ingredient, Hydrogen Peroxide, breaks down into water and oxygen

No active residues reduce environmental impact

½ as many wipes as the leading competitor are needed to keep your surface wet long enough to achieve disinfection
You can purchase the Optim1 Wipes in the 6″x7″ size here on our site. 
The Optim1 Wipes in the 10″x10″ size are available here on our site. 
You can also purchase the Optim1 32 oz. bottled solution here on our site.
And you can purchase the Optim1 1 gal. bottled solution here on our site.
---
As always if you have any questions about this product or anything else please feel free to contact us and take advantage of our "FREE TECH SUPPORT."
We also offer FREE VIRTUAL TECH SUPPORT to "See and Talk" with a "Real Time Live Technician" for any problems you may be in need of help with.
You can also use our "FREE MAINTENANCE PROGRAM". Take the guesswork and worrying about what unit is due for maintenance and which maintenance cycle it is time for. We will keep track of all your autoclaves and let you know when it's time for anything.